Weight Loss Supplements: Will Hoodia Help You Lose Weight?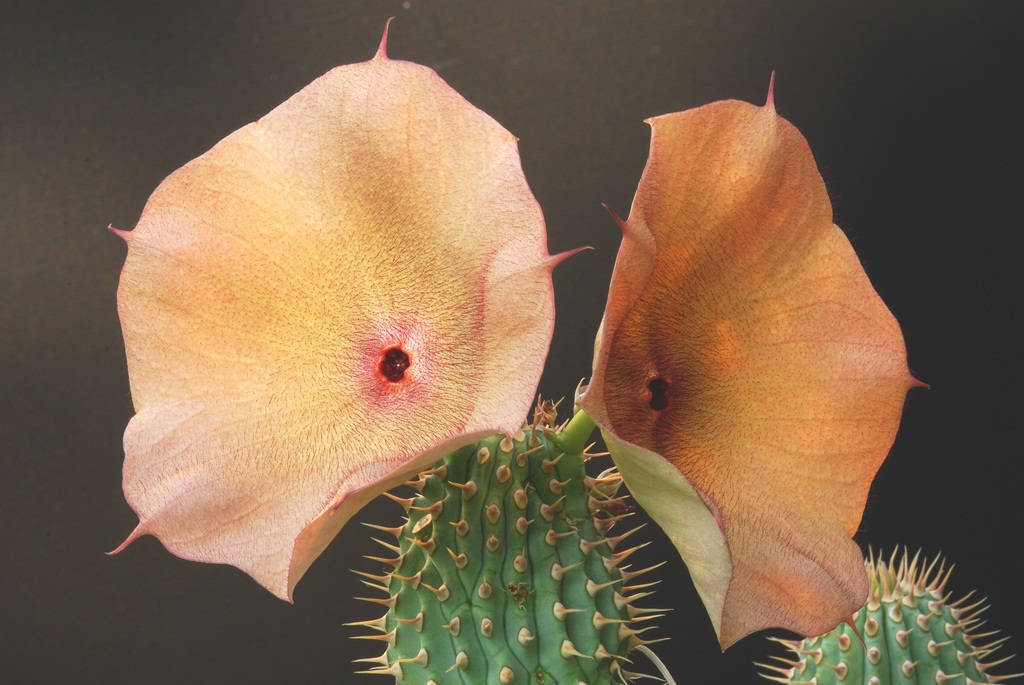 Hoodia is a leafless spiny succulent plant unrelated to cacti that is used in weight loss supplements. Supplements containing Hoodia extracts that may help you lose weight are available online and over-the-counter. The species of Hoodia most commonly used in weight loss supplements is Hoodia gordonii, which is marketed as an appetite suppressant. Many species are relatively protected and exist in the Namib Desert, which ranges from Central Namibia to Southern Angola, particularly in the large plains and rocky areas. Hoodia carries the common names of "Queen of the Namib" and "Bushman's Hat."
Hoodia as a Weight Loss Supplement
Hoodia gordonii, when taken alone is believed to be an appetite suppressant, blocking the brain's hunger centers making it easier to lose weight. The plant's stem is believed to have the appetite suppressant properties. It is recommended to be used along with a low calorie balanced diet and exercise. With the Hoodia, the theory is that you will be more likely to stick with a low calorie diet because you won't be hungry all the time.
The appetite suppressant properties of Hoodia were first discovered in 1937 by a Dutch anthropologist studying the Bushmen of the Kalahari Desert. He noticed that the Bushman would eat the stem of the Hoodia plant to be less hungry when they went on long hunting trips.
The active ingredient of Hoodia is supposed to be P57 which apparently acts on the brain like glucose and tricks the brain into thinking you are full even when you haven't eaten and reduces an individual's desire for food.
Studies on Hoodia
There are few studies of Hoodia, but some show promise. One study out of Phytochemistry Journal in October of 2007 studied an extract of Hoodia gordonii in rats and found a decrease in appetite in the rats over an eight day period of time. The rats also lost weight. Another study found that the only aspect of Hoodia gordonii that has been found to be an active appetite suppressant was a substance known as P57. Currently, there is no widespread way to determine the level of P57 in any given supplement of Hoodia sold on the market.
A British company called Phytopharm is apparently studying Hoodia and has published one human trial. Phytopharm is one of the makers of Hoodia. In 2001, it completed a double-blind, placebo controlled clinical study on healthy, overweight volunteers. According to Phytopharm, the volunteers received "large doses" of Hoodia and had a statistically significant weight loss when compared to controls after a two week period of time. Exactly what constituted a "large dose" of Hoodia was not explained.
In March 2006, Consumer Reports investigated the dietary supplement and concluded, "This weight loss drug lacks the clinical evidence for the Consumer Reports experts to recommend this product."
How Much Does Hoodia Cost
The cost ranges but averages about $60 for 90 pills taken three times per day. Costs could be as low as $40 for a bottle of sixty pills taken twice daily. Some capsules are listed as being pure Hoodia extract while others also contain green tea. None of the manufacturers have the ability to measure the amount of P57 in the capsule. An ongoing review of Hoodia pills by Alkemists Pharmaceuticals found that at least half of the products advertised as containing Hoodia contained none.
Considerations
Hoodia is one of many products for weight loss that has a lot of hype, a great story about bushmen who use it to remain thin and other weight loss claims that have not been substantiated by the literature. There is a lack of independent human studies in which real people take Hoodia or a placebo and weight or appetite suppression is measured. No pharmaceutical would go on the market without a litany of human studies. Everyone gets hung up on the thin Bushmen in Africa without recognizing that they would probably already be thin no matter how much Hoodia they took because of their diet. Unless there are several double blind, placebo-controlled studies on human populations, Hoodia remains suspect as a weight loss supplement.
It should also be noted that Hoodia plant is now an endangered species and is threatened with extinction if international trade is not monitored. See our line of weight loss supplements for effective alternatives to Hoodia.
About the Author:
Dr. Kendra Pearsall, N.M.D. is a Naturopathic Medical Doctor specializing in natural weight loss and food addiction. She created Enlita.com to help millions of people achieve optimal health, natural weight loss and life success with her free weekly e-newsletter (sign up at the top of this page.)