French Women Don't Get Fat Diet Review
Grade:

9/10 A-

An inspirational book for eating like the French--fresh food, full of fat, natural, delicious but always in moderation.
French Women Don't Get Fat Diet Review
The French Approach To Eating Is A Valuable Lesson For All
Dr. Pearsall's Scorecard (scores are 9 out of 10)

Accuracy of nutrition information

8

Well written, organized, engaging, understandable, original

10

Amazon.com customer reviews (62% approval out of 327 reviewers)

6

Advocates foods that are whole, natural, clean, organic and raw

7

Advice on other weight factors (hormones, food allergies, toxicity issues etc.)

0

Uses a holistic weight loss approach, addressing the body, mind, and spirit

4

Sensible meal plans and tasty, healthy quick recipes

6

Detailed exercise advice includes weight training and cardio

3

Easy to follow for life

9

Reviews effective weight loss products e.g. supplements, videos, techniques

1

Warns against foods that are processed, artificial, and contaminated.

10

Author is a credentialed professional in the weight loss field

0

Research studies support the efficacy of the program

7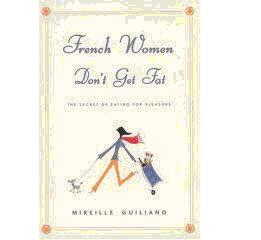 French Women Don't Get Fat: The Secret of Eating For Pleasure
By Mireille Guiliano ©2005 272 pages
Review written by: Dr. Kendra Pearsall
Book Summary:
French Women Don't Get Fat is a charming narrative about native French woman Mireille (MEE-RAY) Guiliano's comparison of French and American cultures and the reasons why most Americans struggle with their weight and the French do not. It also contains recipes for delectable French cuisine.
Praise for French Women Don't Get Fat
Prior to reading French Women Don't Get Fat, I had an aversion to France based on my visit there when I was 19 years old. During that visit, I experienced a fair amount of unfriendliness in my interactions with French people. I asked one Frenchman how to get across the eight lanes of bumper to bumper traffic to see the Arc De Triomphe up close. He convinced me that the only way to get across was to dart across the traffic. My gullibility almost cost me my life. Another problem I had in France was that I ate nothing but baguettes and camembert cheese in order to protect myself from the confiscatory Parisian prices. To this day, the mere smell of camembert cheese makes me nauseous. I left France feeling hungry for both real food and kindness and I swore never to return.
But Guiliano's vivid and passionate description of the French food and culture made me want to return to see all that I had missed.
Guiliano is a lover of high quality French food. Read her description of how the French go to the open air markets to buy fresh local foods such as:
"…eggs that are hours, not months, old, the yolks not pale yellow, but orange and exploding with flavor…white peaches picked early that morning, oozing with juices."
Yes Mireille! This is what we all need to go back to—fresh local food! Not food that is produced by large corporations, picked months ago and sprayed with a ton of preservatives, waxes, and chemicals so that it can travel thousands of miles. According to Guiliano, the French recognize this and making the extra effort to go to the markets is something the French see, not as a hassle but as a sport to be enjoyed. They recognize that the effort is handsomely rewarded with the excellent quality of prepared food because:
"The best cook in the world can't make good food from poor ingredients."
Guiliano made another point that really struck home about the difference between Americans and the French. In the U.S. only an elite few seek out high quality food (e.g. whole, natural, fresh, organic food.)
"Outside their ranks, the great majority of Americans are conditioned to demand and accept bland, processed, chemically treated, generally unnatural foods, which through packaging and marketing have been made to seem wholesome. I have no doubt that any people made to eat this way would in time grow fat. Among the French, by contract, a love of good, natural food is part of the universal patrimony."
I recommend this book even if you do not need to lose weight because there is so much food for thought in her eloquent words. This book reads like a fascinating cultural travel guide and like a romance (with food) novel. I found myself envious of her unbridled passion and excitement for gastronomy (eating fine food). When Guiliano described her nearly orgasmic experience over a meal of raw oysters and champagne, I thought to myself, Hmmm, perhaps I should experiment with more exotic fare.
A Sampling Of The Differences Between France and America According To French Women Don't Get Fat
French women typically think about good things to eat.
American women worry about bad things to eat.
French women eat smaller portions of more things.
American women eat larger portions of fewer things.
French women don't eat "fat-free," "sugar-free," or anything artificially stripped of natural flavor. They go for the real thing in moderation.

French women never let themselves be hungry or feel stuffed.

French women walk everywhere they can and take the stairs whenever possible.
Criticism of French Women Don't Get Fat
1) French women do get fat.
According to 2003 statistics, 43% of the French population is either overweight or obese. (Americans are 66% overweight).
In February 2005, Slate magazine posted an article called "French Women Do Too Get Fat: What the best seller neglects to mention." According to this article, the French culture that Guiliano describes in her book was from her childhood growing up in the 50's and 60's. Guiliano married an American and has lived most of her life in U.S. perhaps unaware that 80% of the population has traded the traditional French meal for the convenience foods and fast foods of Americans. In all of Europe, McDonalds is most profitable in France where sales rose 42% over the past 5 years!
2) A number of Amazon readers felt Mireille was condescending towards American women and that her advice was impractical for Americans.
Those who criticized Guiliano's book were upset about the comparisons between French and American culture such as French women wouldn't be caught dead in a gym, French women only eat the best foods such as dark European chocolate whereas Americans settle for poor food quality.
Also, some women found the recommendations of growing your own food in your backyard, shopping for only a few days at a time and drinking champagne or wine with most meals, and eating leek soup for two days for quick weight loss to be impractical.
3) Advocates drinking alcohol (especially champagne) with lunch and/or dinner.
Mireille mentions repeatedly that she is CEO of Clicquot Inc. a champagne manufacturer and she makes a plug for drinking Clicquot champagne repeatedly throughout the book. Mireille likes to have it everyday. She even has a recipe for you to sauté chicken in it.
Alcohol is not a health food because it damages liver and brain cells but occasional use is probably harmless.
In conclusion, French Women Don't Get Fat is NOT a comprehensive guide for weight loss, but it does contain delightful stories about the importance of eating moderate amounts of high quality, delicious, natural food. This could possibly solve the obesity epidemic in the U.S. and France if people would follow this one simple lesson.
---
About the Author:
Dr. Kendra Pearsall, N.M.D. is a Naturopathic Medical Doctor specializing in natural weight loss and food addiction. She created Enlita.com to help millions of people achieve optimal health, natural weight loss and life success with her free weekly e-newsletter (sign up at the top of this page.)