Explore the Benefits of Coconuts
Coconut flour can be used to make delicious tasting muffins, cookies, pies, cakes, and other breads and baked goods. It is high in fiber, low in carbohydrate, and completely gluten free, making it ideal for people who need to reduce their carbohydrate intake or for those who are allergic to wheat or gluten. Coconut flour can be added to recipes to increase health-promoting fiber and reduce carbohydrate and calorie content.
I've included several recipes made with 100% coconut flour so you can try them for yourself, and see how easy it is to start paving your way to good health just by simply eliminating regular flour from your diet.
Honey Muffins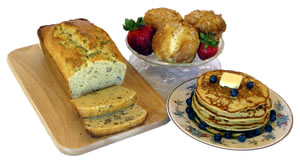 This is a basic coconut four muffin recipe you can use to make a variety of muffins.
3 eggs
2 tablespoons butter, melted
2 tablespoons coconut milk or whole milk
3 tablespoons raw honey
¼ teaspoon salt
¼ teaspoon vanilla
¼ cup sifted coconut flour
¼ teaspoon baking powder
Blend together eggs, butter, coconut milk, honey, salt, and vanilla. Combine coconut flour with baking powder and thoroughly mix into batter until there are no lumps. Pour batter into muffin cups. Bake at 400 degrees F (205C) for at least 15 minutes. Makes 6 muffins.
Pecan Muffins
Make Honey Muffins as directed and add ½ cup of chopped pecans and ? teaspoon almond extract.
Blueberry Muffins
Make Honey Muffins as directed and add ½ cup of fresh blueberries and ? teaspoon almond extract. Blueberries should be dry. If rinsed, dry before adding to batter. Bake for 16-18 minutes.
Lemon Poppy Seed Muffins
Make Honey Muffins as directed but omit the vanilla and add 2 teaspoons of lemon extract. Sprinkle poppy seeds on top of muffins just before baking.
About the Author:
Dr. Kendra Pearsall, N.M.D. is a Naturopathic Medical Doctor specializing in natural weight loss and food addiction. She created Enlita.com to help millions of people achieve optimal health, natural weight loss and life success with her free weekly e-newsletter (sign up at the top of this page.)